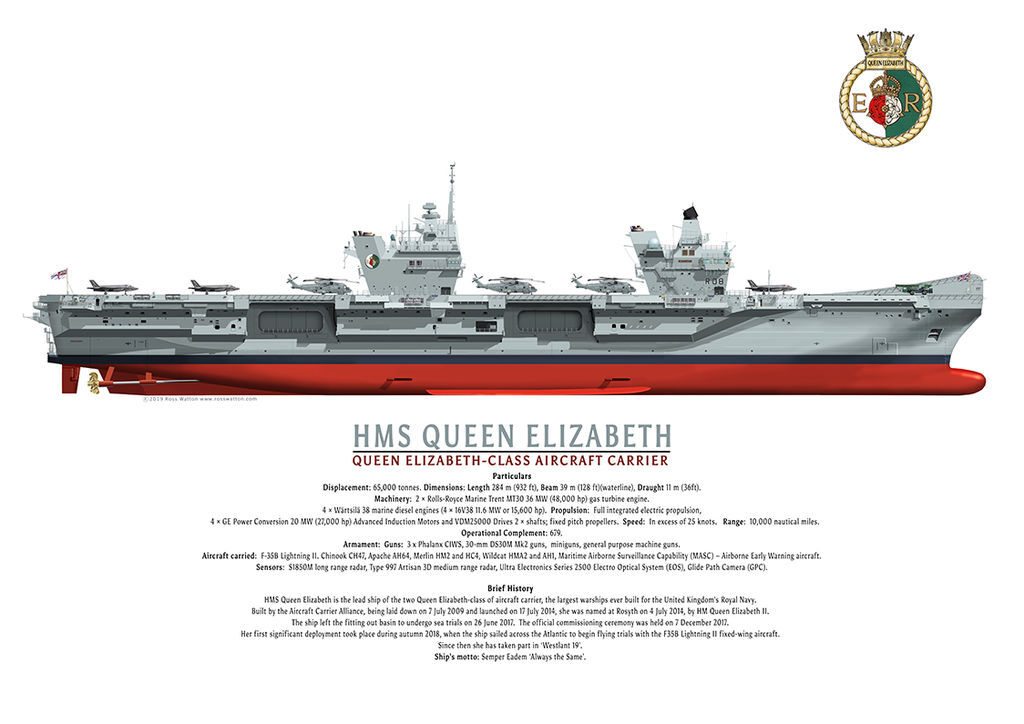 Queen Elizabeth-class Aircraft Carrier
Particulars
Displacement: 65,000 tonnes. Dimensions: Length 284 m (932 ft), Beam 39 m (128 ft)(waterline), Draught 11 m (36ft).
Machinery: 2 × Rolls-Royce Marine Trent MT30 36 MW (48,000 hp) gas turbine engines.
4 × Wärtsilä 38 marine diesel engines (4 × 16V38 11.6 MW or 15,600 hp). Propulsion: Full integrated electric propulsion,
4 × GE Power Conversion 20 MW (27,000 hp) Advanced Induction Motors and VDM25000 Drives 2 × shafts; fixed pitch propellers. Speed: In excess of 25 knots. Range: 10,000 nautical miles.
Operational Complement: 679.
Armament: Guns: 3 x Phalanx CIWS, 30-mm DS30M Mk2 guns, miniguns, general purpose machine guns.
Aircraft carried: F-35B Lightning II. Chinook CH47, Apache AH64, Merlin HM2 and HC4, Wildcat HMA2 and AH1, Maritime Airborne Surveillance Capability (MASC) – Airborne Early Warning aircraft.
Sensors: S1850M long range radar, Type 997 Artisan 3D medium range radar, Ultra Electronics Series 2500 Electro Optical System (EOS), Glide Path Camera (GPC).