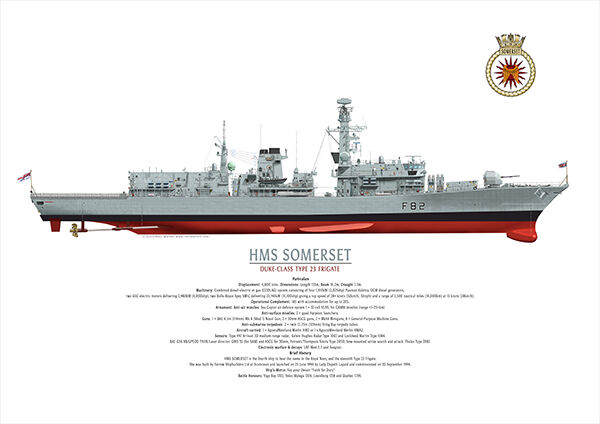 Duke-class Type 23 Frigate
Particulars
Displacement: 4,800 tons. Dimensions: Length 133m, Beam 16.2m, Draught 7.3m.
Machinery: Combined diesel-electric or gas (CODLAG) system consisting of four 1,510kW (2,025shp) Paxman Valenta 12CM diesel generators,
two GEC electric motors delivering 2,980kW (4,000shp), two Rolls-Royce Spey SM1C delivering 23,190kW (31,100shp) giving a top speed of 28+ knots (52km/h, 32mph) and a range of 7,500 nautical miles (14,000km) at 15 knots (28km/h).
Operational Complement: 185 with accommodation for up to 205.
Armament: Anti-air missiles: Sea Ceptor air defence system 1 × 32-cell VLSS, for CAMM missiles (range <1–25+km)
Anti-surface missiles: 2 × quad Harpoon launchers.
Guns: 1 × BAE 4.5in (114mm) Mk 8 (Mod 1) Naval Gun, 2 × 30mm ASCG guns, 2 × Mk44 Miniguns, 8 × General-Purpose Machine Guns.
Anti-submarine torpedoes: 2 × twin 12.75in (324mm) Sting Ray torpedo tubes.
Aircraft carried: 1 × AgustaWestland Merlin HM2 or 1 x AgustaWestland Merlin HMA2.
Sensors: Type 997 Artisan 3D medium-range radar, Kelvin Hughes Radar Type 1007 and Lockheed Martin Type 1084.
BAE GSA 8B/GPEOD TV/IR/Laser director. GWS 35 (for SAM) and ASCG for 30mm, Ferranti/Thompson Sintra Type 2050; bow-mounted active search and attack. Thales Type 2087.
Electronic warfare & decoys: UAT Mod 2.3 and Seagnat.
Brief History
HMS SOMERSET is the fourth ship to bear the name in the Royal Navy, and the eleventh Type 23 Frigate.
She was built by Yarrow Shipbuilders Ltd at Scotstoun and launched on 25 June 1994 by Lady Elspeth Layard and commissioned on 20 September 1996.
Ship's Motto: Foy pour Devoir "Faith for Duty"
Battle Honours: Vigo Bay 1702, Velez Malaga 1704, Louisburg 1758 and Quebec 1759.