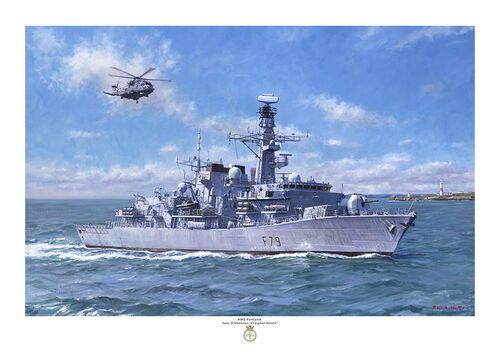 Duke-class Type 23 Frigate
HMS Portland (F79) built by Marconi Marine on the Clyde and launched on the 15 May 1999 by Lady Brigstocke. HMS Portland is the 8th ship to bear the name in the Royal Navy. Her operational career so far has notably included, disaster relief in Belize after Hurricane Dean in 2007 and anti-piracy duties off the Horn of Africa in 2009. She has a length of 133m a displacement of 4, 900 tonnes and a CODLAG (Combined Diesel-electric & Gas) propulsion system.
This second painting of the ship off Portland Bill Dorset, was commissioned by the ship, to mark the ship's rededication on the 9 September 2021, following fitting of Sea Ceptor.