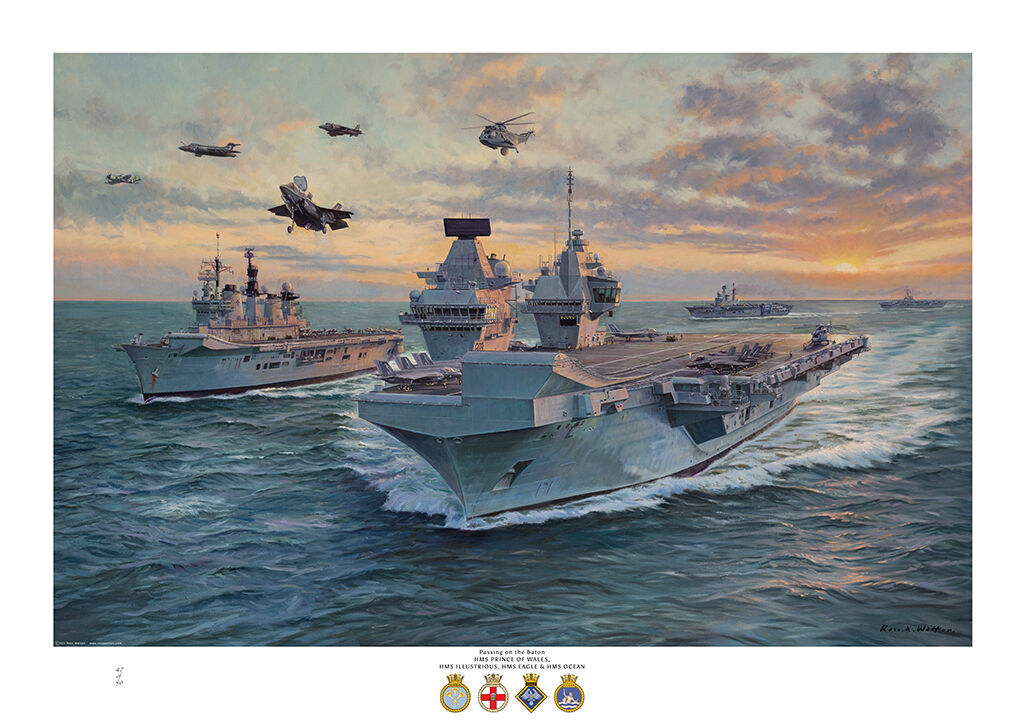 Queen Elizabeth-class Aircraft Carrier
HMS Prince of Wales is the second ship of the two Queen Elizabeth-class of aircraft carriers, the largest warships ever built for the Royal Navy.
Built by the Aircraft Carrier Alliance, it was laid down on 26 May 2011, launched on 21 December 2017 and named by HRH The Duchess of Cornwall on the 8 September 2017. She arrived at her homeport of Portsmouth on the 16 November and commissioned into the Royal Navy on the 10 December 2019. The painting part of the 'Passing on the Baton' set was started in 2010 as HMS Queen Elizabeth, but shelved following alteration made as a result of major structural changes to the ship - proposed during the Strategic Defence Review of that year. A new canvas of HMS Queen Elizabeth was completed in 2014. This painting was finished a decade after conception and shows HMS Prince of Wales in company with HMS Illustrious, Eagle and Ocean, plus aircraft carried by each ship, a Sea Fury, Buccaneer S2, Harrier, Sea King and F-35b Lightning.