Aircraft Carrier Art Prints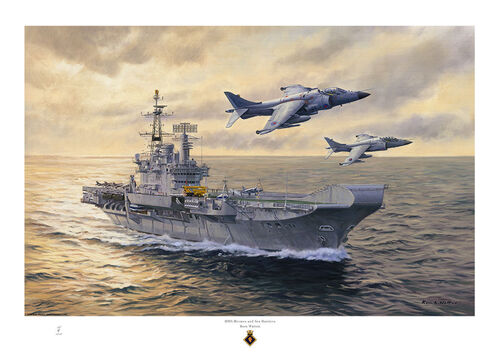 Centaur-class Light Fleet Carrier
HMS Hermes (R12) was built by Vickers Armstrong (Barrow) as a Centaur class light fleet carrier and launched on the 16 February 1953, commissioning on the 18 November 1959. Following a career operating fixed-wing jets, she was converted to a command carrier between 1971 and 1973. She received another conversion in 1981, so she could operate the new Sea Harrier jump jets. Hermes was the 1982 Falklands War RN Flagship. She entered service with the Indian Navy in 1986, as the INS Viraat. Her standard displacement is 23,000 tons and her length is 774 feet.
Paper art prints featuring the Ship's Crest and motto, are available, in A4 lustre surface, A3 lustre surface and A2 matt surface sizes, there is also the option of a 14 x 20 inch canvas print.
The A2 size paper print is a signed limited edition and receives a special authenticity embossed stamp.